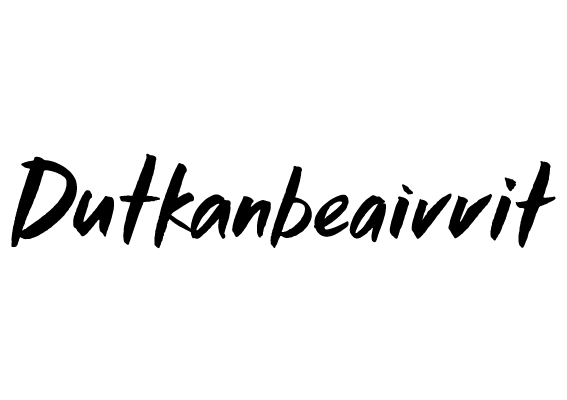 September 17. beaivi 2015
Dutkanbeivviid ollislaš prográmma
Bures boahtin Sámi allaskuvlla dutkanbeivviide. Dás leat máŋggat doalut mat mannet seamma áigge. Dás leat dáhpáhusat diehtosiidda siskkobealde, Árrangáttis, Sáhkaskáiddis, duodjeossodagas ja maiddái olggobealde Diehtosiidda lávuid siste. Prográmmas leat maid doalut Anáris, Heahtás ja Ohcejogas. Buohkat leat bures boahtimat min doaluide.
Váldotemá lea "Borramuš"
Prográmma
 
Sáhkaskáidi 21.9
13.00 Káffe
rektor Gunvor Guttorm rahpá Dutkanbeivviid

13.30-14.00 Nils Dannemark – Urfolksspråk i nord – en sammenlikning av forhold i
Topolinoje i republikken Sakha og Guovdageaidnu i Sápmi

14.00-14.30 Hanna Ellen Guttorm - Contingent Ontologies in Contingent Times

Boddu

15.00-15.30 Aleksandra Bergier - Building resiliency and health through
culture-driven models of language revitalization

15.30-16.00 Ylva Jannok Nutti - Máná áigumušat boahttevuođa árbevirolaš máhtuin:
Sámi mánáidgárddi, skuvlla ja lagašbirrasa máhttofievrrideapmi

13.00-19.00 Katarina Spiik Skum - Duodječájáhus Árrangáttis: Ett koncept om ett rum
baserat på hållbara material. En transformering från goahte till heminredning

Árrangáddi:
16.30-17.00 Ánte Aikio – Sámegiela boarráseamos biebmosánit ja daid álgovuođđu

17.00-18.00 Nuvttá borramuš guossohuvvo buot gussiide

18.00-18.30 Torunn Pettersen - Válgadutkan: Glimt fra samisk valgforskning - Holdninger
til kriteriene for innmelding i Sametingets valgmanntall i Norge og i Sverige

Káffe
Rievdan bargobádji Vuossárgga 21.b čakčamánu dii 9-19 guovtti lávus
Sámi allaskuvlla olggobealde Guovdageainnus
Mánnodaga 21.09.2015
BUOIDI ARKTALAŠ EAMIÁLBMOGIID BORRAMUŠKULTUVRRAS
– GEAVAHEAPMI JA RIIBADEAPMI
09.00 Rahpan: Rektor Gunvor Guttorm, Sámi allaskuvla

Rievdan-prošeavtta ovdanbuktimat:

Professor Svein D. Mathiesen
Árbevirolaš máhttu ja biebmokultuvra geaidnu ceavzilis
boahtteáigái - guovtti diehtovuogádaga heiveheapmi

Suovastuhttin riibadanvuohkin: Guokte diehtovuogádaga
– suovastuhttin ja fágalaš ságastallan lávus
Magistar, kemihkkár ja etnologa Astrid Riddervold
Boazoeaiggát Maret Ravdna Buljo, Lodek
Boazoeaiggát Hans Peder Persen, Unjárga
Boazoeaiggát Inger Anita Smuk, Unjárga
Professor Svein D. Mathiesen
Evenki, Nenetsa, Veapsa ja Sámi eamiálbmotstudeanttat
Suovastuhttin dii 19 rádjái

13.00 -15.00 Loddemális ja loddevuodja
Árbediehtu-prošeakta ja Sámi bivdu- ja meahcástansearvi
 
Maŋŋebárgga 22.9. 9-16 Sámi allaskuvlla lávus
09.00 Ságastallan lávus bohccobierggu suovastuhttima bohtosiin

12.00-14.00 Guollevuodja mearraluosas Árbediehtu-prošeakta ja Tana
og omegn sjølakseskeforening

Davviguovlluid eamiálbmot studeanttat ovdanbuktet iežaset
biebmokultuvrra – buoidi borramušávnnasin
Evenkkaid biebmokultuvra
Nenetsaid biebmokultuvra
Sápmelaccaid biebmokultuvra
EALLU: Árktalaš eamiálbmotnuorat, dálkkádatrievdamat ja biebmokultuvra
Anders Oskal Riikkaidgaskasaš Boazodoalloguovddáža direktevra (ICR)
Árktalaš ráđi ođđa prošeavtta ovdanbuktin
Svein D. Mathiesen, Árktalaš álgoálbmogiid borramušvárit ja árbevirolaš máhttu
Herskomális lávus



23.9.2015 Duodjeossodaga náhkkebájis
11:00 - 18:00 Laila Kuhmunen – Guollecuopmabádji 

Anáris Sámi oahpahusguovddážis, Sajosis du 24.9.15
10.00-10.45 Seija Risten Somby - Konrmašuvdna nuoraid identiteahta huksen gárvodemiin

Ohcejogas Áilegas-dálus dutkaneahket duorastaga 24.09.15
18.00-20.00 
Torkel Rasmussen - Sámeskuvla digiskuvlan - Giellateknologiija rolla sámeskuvllas ja sámegielaid ealáskahttimis
Ánte Aikio – Gos sámegiela sánit bohtet ja maid dat muitalit sámegiela duogážis?
Bearjadaga 25.09 Diehtosiidda kantiinnas
Sámi biebmokoseriija, Sámi biebmogirjjit ja Sámi Tapas
Sámi lohkanguovddáš háliida bovdet buohkaid sierra doaluide Sámi biebmogirjjiid birra ja koseriija guldaleapmái man Johan Ailo Kalstad doallá.
Diibmu 11:00 rájes Biebmu girječájahus kantiinas
Diibmu 11:30 Guossohit sámi tapas kantiinas -  nu guhka go bistá biebmu
Biebmukåseriija 5-15 minuvtta : Johan Ailo Kalstad bokte
Mii sávvat ahte ollu olbmot bohtet doaluide.  

Heahtá luondduguovddážis logaldallan 'Täyenkuun taitheessa' dáhpáhusas 23.10.15
Pigga Keskitalo - Čuvgehus, nationalisma ja dekoloniseren - Sámi álbmotoahpahusa ja skuvlavázzima historjá Suomas

Ohcejogas Mini logaldallan 28.8.15 - Inker-Anni Sara - 'Innovašuvdna' (fuom! leamaš jo)
Lágideaddjit:
Sámi allaskuvla, Árktalaš álgoálbmotkulináralaš instituhtta
Riikkaidgaskasaš Boazodoalloguovddáš ja UArctic EALÁT Instituhtta,
Thon Hotel Guovdageaidnu, Sámi joatkkaskuvla ja boazodoalloskuvla
ja Árbediehtu prošeakta, Tana og omegn sjølakseskeforening,
Sámi bivdu- ja meahcástansearvi, Sámi lohkanguovddáš