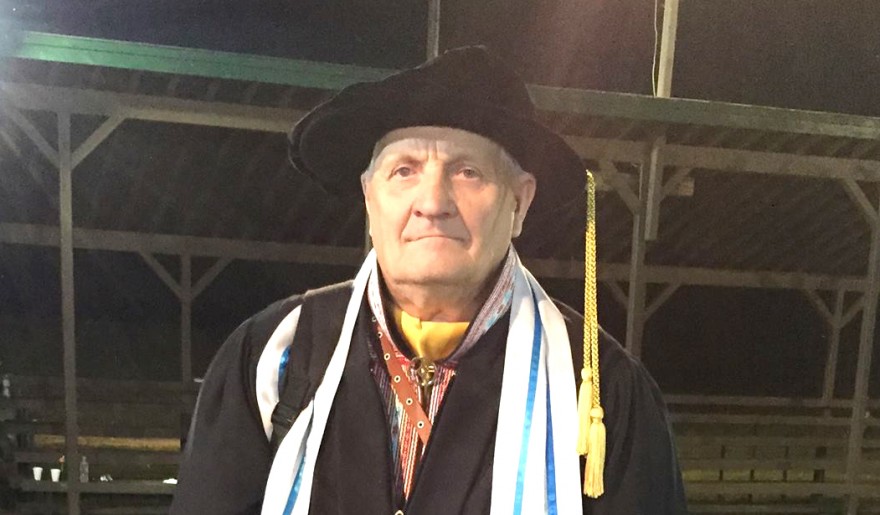 August 12. beaivi 2015
Láidesteaddji nammaduvvon gudnedoavttirin.
Jan Henry Keskitalo, Sámi allaskuvlla láidesteaddji lea ikte nammaduvvon gudnedoavttirin allaárvosaš Winhec seremoniijas, Kanadas.
– Mii Sámi allaskuvllas leat hui ilus, ja čeavlái  go doseanta emeritus sámi oahpahusas ja Sámi allaskuvlla  láidesteaddji Jan Henry Keskitalo lea nammaduvvon WINU (World Indigenous Nations University) gudni doavttirin dadjá Sámi allaskuvlla ođđa rektor Gunvor Guttorm. 
Váimmolaččat sávvat lihku sutnje nammademiin. 
Keskitalo lei Sámi allaskuvlla vuosttas rektor, ja son lea áŋgiruššan sámi oahpahusain sihke Sámis ja eamiálbmot ja riikkaidgaskasaš dásis.
– Jan Henry Keskitalo lea bidjan ollu searaid WINHECII ja oažžut áigái WINU. Dát nammadeapmi čájeha ahte WINHECas leat árvvus atnán Keskitalo bargguid muitala Sámi allaskuvlla prorektor Line Kalak, gii lei mielde go Keskitalo nammaduvvui gudnedoaktáriin ikte. 
Winhec ásahuvvui 2002:is ja lea organisašuvdna mii čohkke eamiálbmot allaoahpu ásahusaid. 
Dáid beivviid dollet sii jahkásaš čoahkkima, dán háve Seven Generations oahppoinstituhtas Nanicost gávpogis, Fort Frances, Ontarios Kanadas.
 

Dieđut:
WINHEC:
-    Ásahuvvui 2002. 
-    WINHEC višuvdna lea oktavuođaid hukset, ja nannet eamitálbmogiid kultuvrra ja servodaga - iešguđet riikkaid oahpahus systemaid bokte.
-    Earret eará lea WINHECas akkrediteren ortnet maid oahpahusásahusat sáhttet ohcat, ja dat oažžu akrediterema gii ollašuhttá WINHECa gáibádusaid. 
-    Sámi allaskuvla lea fargga 10 jagi leamaš akrediterejuvvon allaoahpahus ásahus.
-    Midjiide lea akrediteren kvalitehtaduođaštus, ja duođašta ahte Sámi allaskuvla lea maiddai eamiálbmot ásahus ja bargá eamitálbmotfilosofiija mielde.
WINU:
-    Miehtá máilmme eamitálbmotfierpmádat allaoahpahus ásahusaide.
-    Galgá gaskkustit dieđu, nannet eamiálbmogiid jođiheami, ja nannet daid iešguđet eamiálbmogiid oahpahus systemaid.
Jan Henry Keskitalo:
-    Keskitalo nammaduvvui ikte WINU gudnedoavttirin.
-    Keskitalo lea dahkkán nu erenoamáš barggu sámi oahpahussii. Son lei Sámi allaskuvlla vuosttaš rektor, ja lea maiddái leamaš earret eará jođiheaddji sámi oahpahusráđis, son lea leamaš University of the Arctic vuosttaš Vice President of Indigenous affairs, ja maiddái stivralahttu. Keskitalo lea maid nubbijođiheaddji WINUs, World Indigenous Nations University. Ja sus lea guovddáš rolla WINHECas, ja lea áŋgiruššan bargan doppe čađat.