Kautokeino as a study place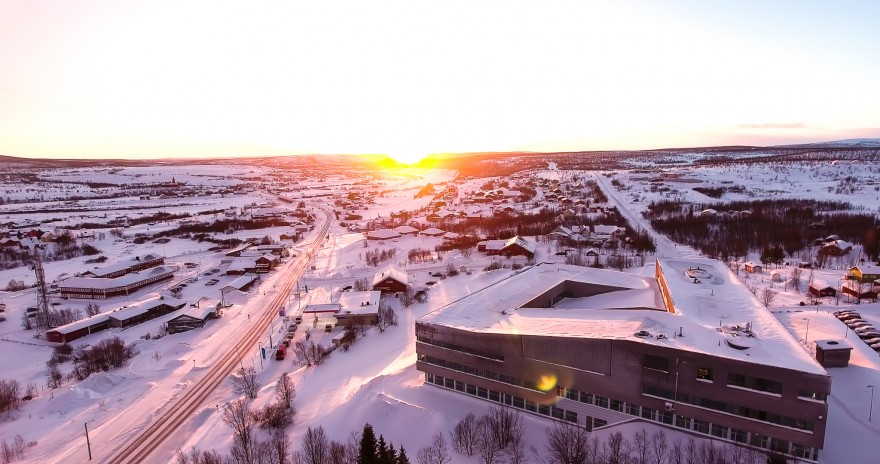 About Kautokeino - Guovdageaidnu
Kautokeino, Guovdageaidnu, is a municipality in Troms and Finnmark county in the western part of the Finnmark plateau. Guovdageaidnu is in area the largest municipality in Norway with close to 9707 km2. Guovdageaidnu is the municipality in Norway with the most Sami-speaking inhabitants, and here as many as nine out of ten have Sami as their first language. 01.01.2018, the population in the municipality was 2946.

Nature is rich in resources such as game, fish and berries and the traditional way of life is still strong. Reindeer husbandry has been the main industry for hundreds of years and is a mainstay of Sami culture. In Guovdageaidnu, there are many who are active in making use of what nature provides in the form of game, fishing and berries. There are also many active duodji practitioners. This is often best seen through duodji markets which are arranged in connection with Christmas and Easter, and through holidays where most people dress in traditional Sami clothes.

Here are also the Nature Center and Duodje Institute which arranges courses that are open to everyone. In addition, there is a varied joike, music and cultural life that has events all year round. In Guovdageaidnu there are otherwise many voluntary teams and associations with varied offers and events.

Public institutions such as the Sami Parliament, Sami University College, the State Administrator in Troms and Finnmark, Sami upper secondary school and reindeer husbandry school, Nordic Sami Institute, Sami Special Education Service, Sami Archive and the Norwegian Institution for Human Rights provide many jobs in the municipality.
The Easter festival in Guovdageaidnu
The traditional Easter festival is held every year. The Easter festival is one of the oldest festivals in Sápmi. Every year, the festival brings together many from all over Sápmi for events such as the Sámi Grand Prix, concerts with Sami artists, reindeer racing, ice skating competitions, scooter cross and theater performances. In connection with Easter, there are also church ceremonies such as confirmations, weddings and christenings.
Climate
Inner Finnmark is one of the country's most rainfall-poor areas, with a subarctic climate. July is the warmest month with an average temperature of around 13 ° C. In winter (December to February) it can get as cold as -45 ° C. The annual average temperature over the last 30 years has been around -2.7 ° C. during five weeks in summer the sun never sets, and during six weeks in winter the sun never rises.

Housing
The Student Association in Indre - Finnmark (SSO) rents 24 apartments and 18 dormitories to students at Sami University College. You can read more about student housing, prices and how to apply for housing here. The municipality and the private rental market also rent out housing. 

Student with children?
The student association has a good kindergarten offer for students with children. You can apply for a kindergarten place all year round for both short- and long-term places. There are two wards for children between 0.5-5 years. Sami activities are part of the kindergarten's everyday life. The Student Association / SSO can be contacted for more information, application for a kindergarten place and prices.
 
Hiking, training and competition activities
In Diehtosiida there are training rooms where all students and staff can train for free.

Otherwise, there are voluntary teams and associations that have other offers:
Tuvrrahasat is a hiking team that arranges walks in nature. As a student, you can borrow a canoe or boat, lávvu and other hiking equipment.
Kautokeino Idrettslag has training offers both winter and summer. Blue. football for children, youth and adults, floorball, handball and skiing. Good ski slopes.
Kautokeino Motor Club offers training tracks and organizes competitions on both water and snow.
The Thon Active Kautokeino Hotel has fitness equipment and a fitness room. Prices are available at Thon hotel.
The binge ride is a mountain bike race between Mieron and Máze, 50 km. Held every year in August.
Sámi Gamers has gaming as its main activity.
The Bæskades race is arranged on the last Sunday in April by Máze IL and Alta IF, a 28 km ski race between Suolovuopmi and Gargia.
Saami Ski Race - one of the world's longest marathon ski races. 

Music and art
In Guovdageaidnu there is an active environment within music, film, performing arts and art.
Koret Dimitri Joavku
Dáiddadállu is an artist collective that has gathered many artists under one roof. Arranges i.a. courses and exhibitions.
Public transport
The nearest airport is Alta Airport, approximately 130 kilometers from Kautokeino. There is a daily bus between Alta and Kautokeino, and between Karasjok and Kautokeino. The trip from Alta to Kautokeino takes about 1 hour 50 minutes. Otherwise, post several posts on Facebook on Kautokeino bulletin board about the need for a ride, and most often you get a hitch with someone who drives to / from the municipality.

Bus routes can be found on Snelandia's website. Plan your trip here: Home | Snelandia