What's up
20. August, 09:00

to

22. August, 11:00
Annual general meeting for ​World Indigenous Nations Higher Education Consortium
22. August, 09:00

to

24. August, 14:00
Sámi University of Applied Sciences and World Indigenous Research Association, invite you to Guovdageaidnu, Norway, August 22th - 24th 2018.
23. August,

12:00

to

14:00
Almmolaš rahpandoalut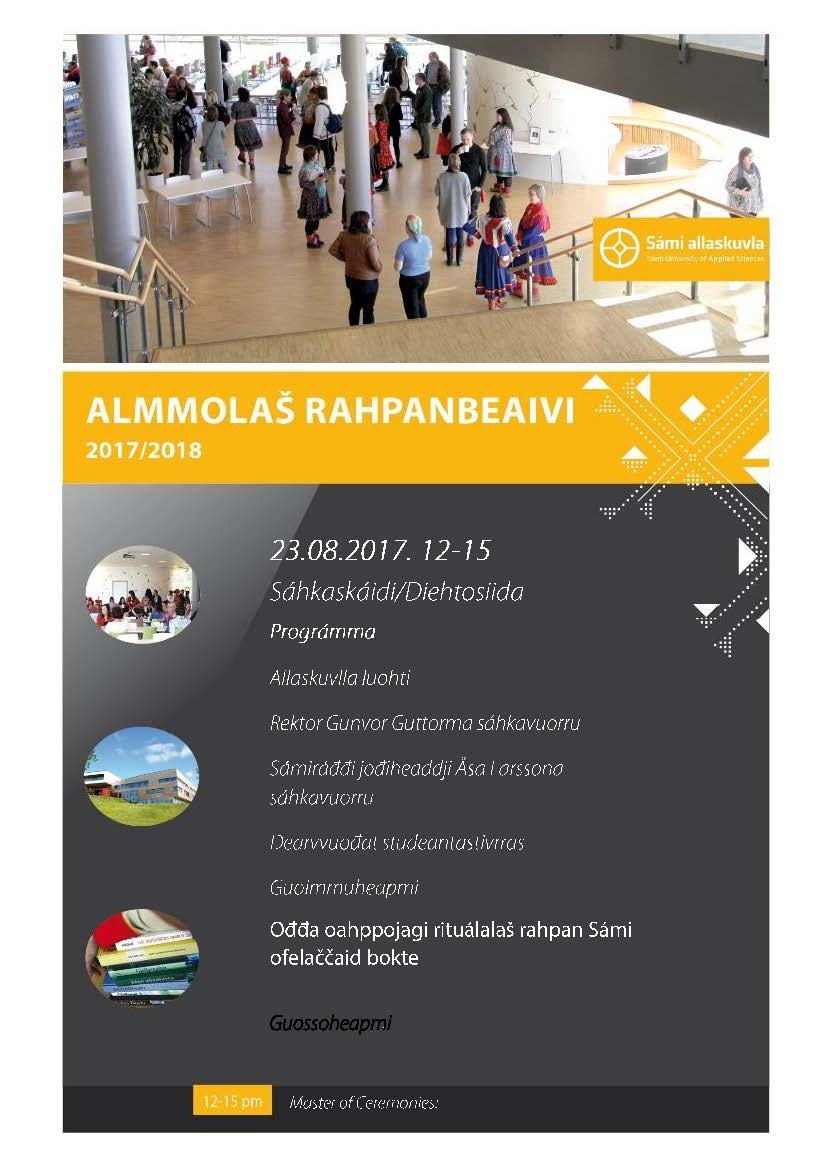 Bures boahtin studeantan Sámi allaskuvlii oahppojagi 2017/2018!

Oahppojahki 2017/18 álgá mánnodaga 21.08.17. dii. 10.00. 
Almmolaš rahpan Diehtosiiddas gaskavahkku 23.08.17 dii. 12.00.

Ođđa studeantan Sámi allaskuvllas dus várra leat jearaldagat maidda dárbbašat vástádusaid. Mii leat muhtin ráje vástádusaid deike čohkken. Jus leat jearaldagat masa it gávnna vástádusa, de áinnas váldde oktavuoða Sámi allaskuvlla oahppo- ja dutkanhálddahusain: studieadm@samiskhs.no / +47 78 44 84 00 
Mo galggan ohcat loana dahje eará doarjagiid?
Šloahkkal dákko, de sáhtát lohkat doarjjaortnegiid birra.

Dárbbašan dieđuid studeanttaid čálgofálaldagaid birra, nu go orrunsajiid ja mánáidgárddi birra.
Sis-Finnmárkku studeanttaid ovttastus (SSO) sáhttá veahkehit. Šloahkkal dákko, de beasat sin ruovttusiidui.

Oahput mat álget oahppojagi 2017/2018:
Čakčalohkanbajis:
Sámi vuođđoskuvlaoahpaheaddjioahppu 1.–7. luohkáide (300 oč, eavttuin ahte oahppu dohkkehuvvo)
Sámi vuođđoskuvlaoahpaheaddjeoahppu 5.-10. luohkáide (300 oč, eavttuin ahte oahppu dohkkehuvvo)
Sámi mánáidgárdeoahpaheaddjeoahppu (180 oč)
Boazodoallooahpuid bachelor (180 oč)
Duoji ja hábmema bachelor (180 oč)
Sámegiela ja sámi girjjálašvuođa bachelor (180 oč)
Sámegiela ja sámi girjjálašvuođa doavttirgrádaoahppu (180 oč)
Bagadallanpedagogihkka (15 oč)
Praktihkalaš pedagogalaš oahppu (30 oč)
Sámegiella ja sámi girjjálašvuohta 1 (30 oč)

Davvisámegiela morfologiija ja cealkkaoahppa (10 oč)
Sami girjjálašvuohta (10 oč)
Davvisámi fonetihkka, fonologiija ja čállinvuogit (10 oč)

Davvisámegiella praktihkalaš dilis - álgooahppu 1. oassi (15 oč)
Davvisámegiella praktihkalaš dilis - álgooahppu 2. oassi (15 oč)
Duddjoma ja hábmema bargovuogit (10 oč)
Árbediehtu (30 oč)
Sámi historjá 1 (15 oč)
Eamiálbmotfilosofiija (10 oč)
Dieđalaš čállin ja guorahallan 1 (10 oč)
Boazodoallofága metoda; vuođđokursa (10 oč)
Sámi kultur- ja servodatdiehtu 1 (15 oč)

 

Biological diversity (8-j online course) (15 oč)
Álgoálbmotdiehtu (10 oč)
Mulitcultural understanding online course (10 oč)

Giđđalohkanbajis:
Sámegiella ja sámi girjjálašvuohta 2 (30 oč)
Davvisámegiela lohkanbadjeoahppu ( 30 oč)
Bistevaš design (15 oč)
Eamiálbmogiid duodje- ja dáiddadiehtu (15 oč)
Boazu ja bohcco ávki/birgejupmi (20 oč)
Guohtunšattuid ja guohtuma máhttu (10 oč)
Sámerievtti vuođđooahppu (15 oč)
Álgoálbmotdiehtu 2 (10 oč)
Osku ja eallinoaidnu (15 oč)
Sámi kultur- ja servodatdiehtu 2 (15 oč)